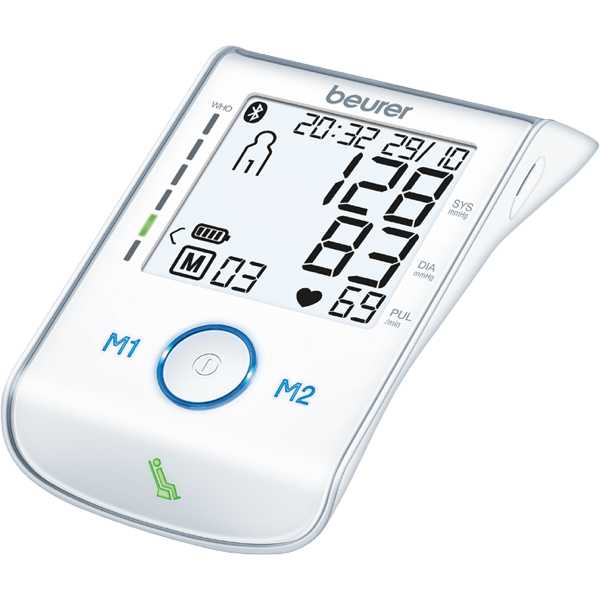 Device Model:
BM 85
Manufacturer:
OBL: Beurer GmbH, Söflinger Straße 218, 89077 Ulm, GERMANY.
OEM: Andon Health Co. Ltd., 3 Jinping Road, Ya'an Street, Nankai District, Tianjin 300190, CHINA.
Measuring functions:
Blood pressure
Primary Client Use:
Intended for self-measurement and home use
Measurement Site:
Upper Arm
Measurement Occurrence:
Single measurements only
Connected Health Technologies:
Bluetooth
Availability:
Available Currently
Availability according to Countries or Regions:
Germany, United Kingdom, Spain, France, Italy and Hungary
Device Manual:
Device Specifications:
Description:
The Beurer BM 85 Bluetooth is an automatic blood pressure monitor. Its blood pressure measurement technology has been proven to be accurate. Blood pressure measurements are taken from the upper arm. It is intended for self-measurement and home use.
Assessment:
The technology used in the Beurer BM 85 Bluetooth, to measure blood pressure, has been assessed, in a specific population, according to a non-standard protocol. It has also been assessed in a study, the results of which have not been published and cannot be verified.
Recommendations:
| | | | |
| --- | --- | --- | --- |
| | Accuracy Assessment | Recommendation | Basis |
| BP | Medaval | None | When an evaluation is carried out using a non-standard protocol, no inference can be made on accuracy based on a standard protocol. |
| BP | DHL (DE) | General use (2015) | Unpublished internal data |
Validation Publications:
Wetterholm M, Bonn SE, Alexandrou C, Löf M, Trolle Lagerros Y. Validation of Two Automatic Blood Pressure Monitors With the Ability to Transfer Data via Bluetooth. J Med Internet Res. 2019 Apr 17;21(4):e12772. doi: 10.2196/12772. PMID: 30994459. Available from: www.jmir.org.
Ad Hoc protocol Type 2 Diabetes Mellitus