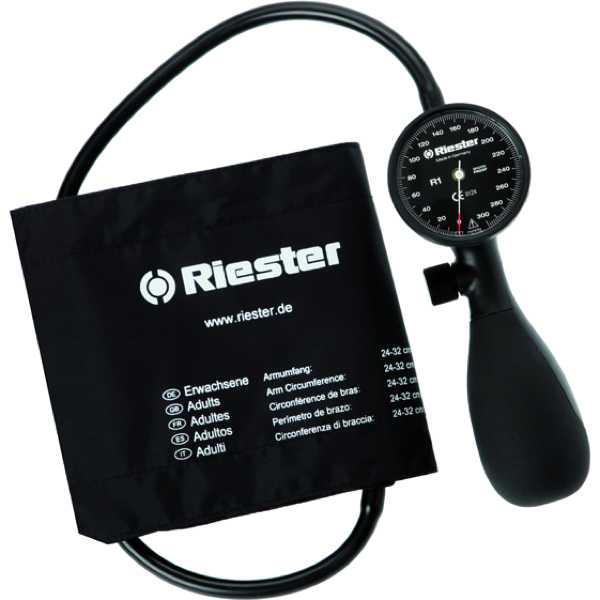 Device Name:
R1 Shock-Proof
Device Model:
1250-150, 1250-152, 1250-154, 1250-100, 1250-107, 1251-150, 1251-152, 1251-154, 1251-100, 1251-107 (See Specifications)
Manufacturer:
Rudolf Riester GmbH
, Bruckstraße 31, D-72417 Jungingen, GERMANY.
Measuring functions:
Blood pressure
Primary Client Use:
Intended for professional use
Measurement Site:
Upper Arm
Measurement Occurrence:
Single measurements only
Availability:
Available Currently
Availability according to Countries or Regions:
Ireland
Device Specifications:
Description:
The Riester R1 Shock-Proof is a palm-style manually-operated aneroid sphygmomanometer. . Blood pressure measurements are taken from the upper arm. It is intended for professional use.
Assessment:
While the technology used in the Riester R1 Shock-Proof, to measure blood pressure, has been declared as being equivalent to that used in another device, not only has no evidence has been published to show that the devices have been compared according to a protocol compliant with (EU) 2017/745 and MEDDEV 2.7/1 rev 4, but the results of the assessment on which the declaration has been based have not been published either and cannot be verified. However, there are validation studies proving clinical validation of the same measurement technology, according to other equivalence claims.
Recommendations:
| | | | |
| --- | --- | --- | --- |
| | Accuracy Assessment | Recommendation | Basis |
| BP | Medaval | None | This is a manual device. Equivalence to a validated device is possible but this has not been tested to MDR requirements. |
| BP | BIHS (UK and IRL) | Professional use | Manufacturer declaration of equivalence to a device without published evidence |
| BP | ESH (Europe) | Professional use | The BIHS recommendation, despite the absence of the scientific evidence required by the same authors' criteria. |
Device Family:
Keeler Palm
B
,
Keeler Windsor
B
,
Keeler Big Ben Round
B
,
Keeler Big Ben Square
B
,
Keeler Classic
B
,
Riester Big Ben Round Desk
B
,
Riester Big Ben Square Desk
B
,
Riester E-Mega (1-tube)
B
,
Riester Exacta
B
,
Riester Minimus II
B
,
Riester Minimus III
B
,
Riester Precisa N
B
,
Riester R1 Shock-Proof
B
,
Riester ri-san
B
,
Riester Precisa N shock-proof
B
,
Riester Big Ben Round Floor
B
,
Riester Big Ben Square Floor
B
,
Riester Big Ben Round Wall
B
,
Riester Big Ben Square Wall
B
,
Riester E-Mega (2-tube)
B
,
Riester Big Ben Round Rail
B
,
Riester Big Ben Square Rail
B
Legend:
B
BIHS Derivative