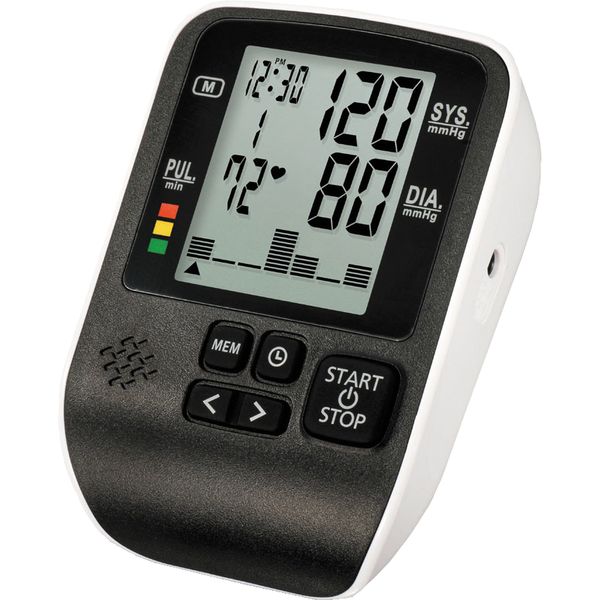 Device Model:
HL858JA
Manufacturer:
OBL: Maestro Innovations Corporation, 8F-7, 155 Jhongyang Road, Sindian District, New Taipei City, TAIWAN ROC.
OEM: Health & Life Co. Ltd., 9F - 186 Jian 1st Rd., Zhonghe Dist., New Taipei City 23553, TAIWAN ROC.
Measuring functions:
Blood pressure
Primary Client Use:
Intended for self-measurement and home use
Measurement Site:
Upper Arm
Measurement Occurrence:
Single measurements only
Availability:
Available Currently
Description:
The Maestro HL858JA is an automatic blood pressure monitor. Its blood pressure measurement technology has been proven to be accurate. Blood pressure measurements are taken from the upper arm. It is intended for self-measurement and home use.
Assessment:
While the technology used in the Maestro HL858JA, to measure blood pressure, has been declared as being equivalent to that used in a clinically validated device, no evidence has been published to show that the devices have been compared according to a protocol compliant with (EU) 2017/745 and MEDDEV 2.7/1 rev 4.
Recommendations:
| | | | |
| --- | --- | --- | --- |
| | Accuracy Assessment | Recommendation | Basis |
| BP | Medaval | None | Although equivalence to another device is claimed, this has not been tested to MDR requirements. |
| BP | BIHS (UK and IRL) | Self-measurement | Manufacturer declaration of equivalence |
| BP | ESH (Europe) | Self-measurement | The BIHS recommendation, despite the absence of the scientific evidence required by the same authors' criteria. |
Device Family:
Cresta BPM-610
B
,
Cresta BPM-701
B
,
Medicare Lifesense A2 (MD638)
B
,
H&L HL858BA
B
,
H&L HL858GA
B
,
H&L HL858HA
B
,
H&L HL868ZA
B
,
H&L HL868ZB
B
,
H&L HL888HA
B
,
H&L HL888HC
B
,
H&L Airssential AI-H971
B
,
H&L HL858DK
B
,
Maestro HL858JA
B
,
Maestro HL858SA
B
,
Health Assure HL858JA
B
,
Proton PHC-888EA
B
,
Proton PHC-888UP
B
,
Seagull S-888HA
B
,
Walgreens WGNBPA-730
B
,
Walgreens WGNBPA-740
B
,
Walgreens WGNBPA-750
B
Legend:
B
BIHS Derivative
Validation Publications for Equivalent Devices:
Note: This is a provisional list, as equivalence according to EU Regulation 2017/745 (e.g. MEDDEV 2.7/1 rev 4) is not proven. Accordingly, these publications are not used in the assessment of star-ratings.
H&L HL888HA
de Greeff A, Shennan AH. The Health and Life device (HL888HA): accuracy assessment in an adult population according to the British Hypertension Society protocol. Blood Press Monit. 2007 Apr;12(2):107-11. PMID: 17353654.
BHS:1993 - Pass (A/A) General population
Tholl U, Lüders S, Bramlage P, Dechend R, Eckert S, Mengden T, Nürnberger J, Sanner B, Anlauf M. The German Hypertension League (Deutsche Hochdruckliga) Quality Seal Protocol for blood pressure-measuring devices: 15-year experience and results from 105 devices for home blood pressure control. Blood Press Monit. 2016 Aug;22(4):197-205. doi: 10.1097/MBP.0000000000000186. PMID: 26998590.
DHL:1999 - Pass General population (Note: 2003)