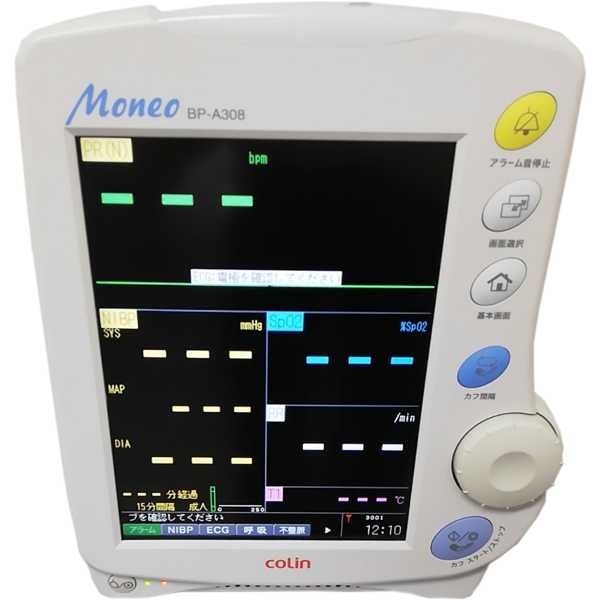 Device Model:
BP-A308
Manufacturer:
OBL: Colin Medical Instruments Corp., 5850 Farinon Dr, San Antonio, TX 78249, UNITED STATES.
OEM: Omron Corporation, Kyoto Head Office, Shiokoji Horikawa, Shimogyo ku, Kyoto 600-8530, JAPAN.
Measuring functions:
Blood pressure, Vital Signs
Primary Client Use:
Intended for patient monitoring
Measurement Site:
Finger
Measurement Occurrence:
Continuous measurement
Availability:
Available Currently
Availability according to Countries or Regions:
Japan
Description:
The Colin BP-A308 is a patient monitor. Its blood pressure measurement technology has been proven to be accurate. Blood pressure measurements are taken from the finger. It is intended for bedside patient monitoring.
Assessment:
The technology used in the Colin BP-A308, to measure blood pressure, has been compared to a clinically validated device, but the results of the equivalence study have not been published and cannot be verified; nor can the protocol be checked for compliance with (EU) 2017/745 and MEDDEV 2.7/1 rev 4.
Recommendations:
| | | | |
| --- | --- | --- | --- |
| | Accuracy Assessment | Recommendation | Basis |
| BP | Medaval | None | Although equivalence to another device is claimed, this has not been tested to MDR requirements. |
| BP | Japanese Society of Hypertension | Professional use (2016-2018) | Implied equivalence to the Omron M3500 NIBP Module or HBP-1300 (HBP-1300-E) |
Device Family:
Validation Publications for Equivalent Devices:
Note: This is a provisional list, as equivalence according to EU Regulation 2017/745 (e.g. MEDDEV 2.7/1 rev 4) is not proven. Accordingly, these publications are not used in the assessment of star-ratings.
Omron M3500 NIBP Module
Chahine MN, Assemaani N, Sayed Hassan G, Cham M, Salameh P, Asmar R. Validation of the OMRON M3500 Blood Pressure Measuring Device Using Normal- and High-Speed Modes in Adult and Specific Populations (Obese and Children) According to AAMI Protocol. J Clin Hypertens (Greenwich). 2015 Aug;17(8):622-9. Epub: 2015 Apr 2. doi: 10.1111/jch.12540.. PMID: 25833259. Available from: onlinelibrary.wiley.com.
81060-2:2009 - Pass In normal-speed mode (Note: 81060-2:2013 criteria fulfilled)
81060-2:2009 - Pass In high-speed mode (Note: 81060-2:2013 criteria fulfilled)